DRIVING SCHOOLS IN SOUTH LONDON
0208 181 9209
Grab your first beginner driving lesson in South London for only £9.99 and start driving Today
ONE OF THE BEST DRIVING SCHOOLS IN LONDON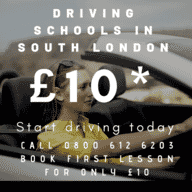 REVIEW OUR DRIVING SCHOOL

GREAT DRIVING LESSONS IN SOUTH LONDON FROM ONLY £9.99

​Learn to drive in London and get on the road faster, we provide great cheap driving lessons and courses at competitive prices in

your south London area. Give us a call today and we'll quote you a package that will get you on the road quickly and cheaply with the

best driving instructors in London

. Let us help you learn to drive in south London today.

​

WHY CHOOSE OUR DRIVING SCHOOL?
​

Our

Driving School in South London

provides a vast range of cheap driving lessons to suit all individual learners needs.

Each lesson is designed to help you achieve your goals in the quickest possible time.

​

We make you ready for your driving test and give you the confidence and skills required to drive safely and ultimately pass

your practical test first time.

LOCAL SOUTH LONDON SCHOOL AREAS



Our driving instructors in South London covering local locations near you:

Clapham Balham Barnes Battersea Brixton Kensington Streatham TootingSouthfields

​

Raynes ParkOvalPutneyVauxhallWimbledonWandsworth

Helpful Beginner
​Driving Lessons in South London

Whatever you do learning to drive can be one of the most rewarding things you ever do. Don't delay get on the road in South London Today.

FAST

If you are looking around for the best intensive courses you've come to the right place, our South London Driving School will help you pass your driving test in the near future and we can arrange you to have your test in just 10 - 14 days time.

​

---

BOOK YOUR DRIVING LESSONS TODAY IN SOUTH LONDON

At our

Driving Schools in South London

we provide top quality cheap driving lessons to suit both beginner and experienced drivers of all ages and abilities. Learn to drive in South London today and open up a world of possibilities in your life, career and future opportunities.

DRIVING INSTRUCTORS IN SOUTH LONDON

*

Guaranteed Test Pass

- £1,200

Guaranteed driving test pass

covers all the driving lessons in south London that you will need to pass your test and includes vehicle and driving instructor for the day of your test in London.

*NOTE

:

The Guaranteed Driving Test Pass does not include DVLA Test booking prices, practical and theory test prices. These are responsibility of the student.

If you

learn to drive in South London

with one of our expert instructors in London you will be able to drive anywhere in the UK or even the world. That's because London is probably the best place to learn so don't be put off with motoring in busy London streets, as this will make you a more competent driver and will prepare you for anything your motoring life has to throw at you.

GREAT DRIVING COURSES NEAR

Our Intensive and Crash Driving Courses with our South London Driving Instructors will help you pass your driving test in only 2-3 weeks time whilst ensuring you are fully at ease and confident in your abilities on and off the road. The driving lessons and courses we offer are:

Automatic Driving Lessons in South London. Ideal if you have tried lessons in a manual car and find it just a bit too much for you.
Advanced Courses, for those career drivers wanting to take their driving skills and ability to the next level and help with insurance discounts.
Pass Plus Courses, ideal if you have just passed your driving test, along with substantial car insurance discounts in South London
Crash Courses & Lessons Need to pass your driving test quickly, then take our crash driving course. Multiple lessons over a very short period of time. Pass in weeks not months.
Intensive Courses, again this driving course will enable you to pass your test in the shortest possible time.
Motorway Courses for those drivers needing extra confidence in their motorway and dual carriageway driving abilities.
Refresher Lessons, ideal for those experienced drivers wanting to enhance their driving skills in South London. Good for newcomers to the capital.
Beginner Lessons we have a range of courses to suit beginners of all ages and abilities we will be able to quickly assess your motoring needs.
Practical Lesson Just what it says, not classroom based you will be taught to drive in one of our dual control automatic or manual cars for maximum safety with a fully qualified teacher.​

Call us to find out more about our

Driving Tuition in London

Our Driving Lesson Structure

All our qualified DVSA Approved professional

driving instructors in South London

, will ensure that all driver lessons take place in a focused, friendly and relaxed environment so that you develop the safest driving techniques and skills along with the necessary habits that you will need in your driving life .

Introduction - Knowledge of your vehicle's basic workings and mechanics through to how to check the oil, water levels, tyre pressure and tread depth and how to check that your brake, headlights, indicators and reversing lights are all working correctly,
Preparation - What to do when getting into you vehicle. ensuring the seat and mirrors are positioned correctly, checking dashboard warning lights etc before turning the ignition and getting ready to move off,
Moving off - How to put the car into gear, signalling and what blind spots to check before you disengage the handbrake, the clutch and start to depress the accelerator and move out of you parking space,
Clutch Control - How to safely use the clutch and changing up and down through the gears to control your speed,
Approaching Junctions - How to position the car when arriving at junctions, traffic lights, pedestrian crossings or hazards,
Stopping the car - In a controlled and safe manner,
Moving Off - from junctions, once again blind spot and mirror checks and preparing to turn into a road safely,
Parking the Car - teaching you how to parallel and reverse park into spaces or car parking bays,
Reversing Around a Corner - We teach you and then you practice how to safely reverse around a corner,
Roundabouts - We teach you how to approach a roundabout how to enter a roundabout and the correct signalling procedure when going around a roundabout.
Dual Carriageway - Maintaining speed overtaking and accelerating a decelerating.
Hazard Awareness - What is a hazard how to react to hazards and prepare before a potential hazard is realised.
Emergency Stop - How to perform an emergency stop safely.
Road Conditions - How to drive safely in rain snow and icy conditions.

Give us a call on ​

0208 181 9209

AND GET YOUR FIRST BEGINNER LESSON FOR ONLY £9.99

Stop looking for driving lessons near me? or driving instructors near me? Or even driving schools local to me? We are the best choice.

---

CALL US

Landline Telephone No: 0208 181 9209

Email: Please use the form below to request a callback

from our one of our local instructors near you.

Manual Lessons

£24.00 p/h

Automatic Lessons

£25.00 p/h

CHEAP

The more lessons you book the more you save but don't book too many you may not need them with our expert tuition

SAVE £S

We'll save you even more money on your lessons by just teaching you to drive faster and therefore by helping you pass your driving test quicker.

QUICKLY

Learn faster than at any other school in south London. Get learning today and never turn around as you'll soon be using your mirrors.

LOW COST LESSON PRICES

Manual Car Lessons

£26 p/hr

Automatic Car Lessons

£27 p/hr

Block Lessons bookings

(10 x 1hr lessons)

ONLY £250

Try us out NOW for only £9.99

Pass Plus Lessons

£26 p/hr

Refresher lessons

£26 p/hr

Motorway Course

(3 hours tuition)

£74.95

Grab your first lesson for only £9.99 Only

*

Beginner Drivers Only

Driving is all about practice, the more hours you spend behind the wheel of a car the more confident and safer a driver you will become.

PRACTICE MAKES PERFECT

THE PERFECT BIRTHDAY GIFT

LEARN TO DRIVE & SAVE POUNDS

and get even cheaper lessons by block booking your driving lessons in advance.

​

Enjoy the freedom of the open road.

Sitting behind the wheel of a car and feeling the sense of power and adventure is one of life's little pleasures.

You will be on the road in the very near future with one of the top instructors in London.

helping you ​pass your driving test in London.

Learning to drive is not rocket science and that's how we teach all our students. We will provide you with practical lessons in south London and a host of online resources and aids that will give you the theory and the knowledge behind what you will need when you are on the road, so you can quickly understand the mechanics of the car and how to drive safely, efficiently and effectively.

​

How Local?

Driving Schools in South London

49 Hillier Road,

Clapham,

London,

SW11 6AX

United Kingdom

0208 181 9209
​Changes to the Driving Test
From the 4th of December 2017 there will be several changes to the driving test in the UK. These changes include an increase from 10 to 20 minutes of free or independent driving and the use of a sat nav whilst driving.
Additionally the show me tell me questions you would normally be asked at the beginning of your test will now be asked whilst you are driving.
These two changes are believed to pose a more realistic example of the distractions you will experience during normal driving conditions.
However reversing around a corner will now be scrapped.
PASS YOUR DRIVING TEST IN SOUTH LONDON


© Copyright 2019 - Driving School in South London providing cheap driving lessons and short notice driving tests in South London including the areas Balham, Barnes, Battersea, Brixton, Clapham, Kensington, Merton, Morden, Oval, Putney, Raynes Park, Streatham, Stockwell, Southfields, Vauxhall, Wandsworth and Wimbledon SW19. Learn to drive with our male and female driving instructors today.
Sitemap